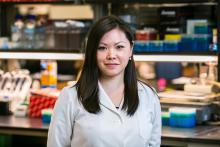 "The close proximity to the clinic is the most unique aspect of the Center. I have never seen any other research center where researchers have such a regular interaction with the clinicians and easy access to the patient samples." - Dr. Jamie Wong, Research Associate
Dr. Wong joined the Tisch MSRCNY research laboratory in May 2015, after completing her postdoctoral training at Icahn School of Medicine at Mount Sinai. Her primary research interests have focused on repair and regeneration mechanisms underlying CNS trauma and neurological disorders. As a postdoctoral fellow, she studied epigenetic mechanisms regulating axon regeneration and glial response after spinal cord injury. Additionally, Dr. Wong studied the effects of manipulating BMP signaling on stroke pathophysiology.
Dr. Wong received her Ph.D. in Biological Sciences in 2011 and B.S. in Neurobiology in 2004 from the Neurobiology and Behavior Department at University of California, Irvine. Her thesis work focused on evaluating the impact of plasticity-promoting drugs and motor training on locomotor recovery following spinal cord injury.
Dr. Wong's research at Tisch MSRCNY is directed towards understanding mechanisms of neurodegeneration and astrogliosis in primary progressive multiple sclerosis.