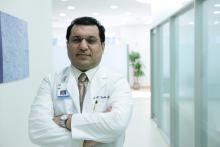 Saud A. Sadiq, MD, provides direction and oversight for all of the research work at the Tisch MS Research Center of New York. Dr. Sadiq is a board-certified neurologist with residency training in Internal Medicine in England, and in Neurology at the University of Texas, where he was elected to the Alpha Omega Alpha Honor Medical Society. From 1988-91, he trained as a research fellow funded by a Dana Fellowship award and a MDA Fellowship in Neuro-immunology at Columbia University in New York.
From 1992-98, he was Assistant Professor of Neurology at the Neurological Institute at Columbia University, where he served as Associate Director of the MS Clinical Program and conducted NIH-funded laboratory research on heat shock proteins.
In 1998, he became Director of the MS Research and Treatment Center at St. Luke's-Roosevelt Hospital in New York. From 2000-2005, he served as Chairman of the Department of Neurology at St. Luke's-Roosevelt, with faculty appointments at Columbia University and Albert Einstein College of Medicine. In 2006, Dr. Sadiq founded the MS Research Center, affiliated with the International Multiple Sclerosis Management Practice, which receives more than 11,000 patient visits annually. His research interests are focused on multiple sclerosis and include investigating the intrathecal oligoclonal B-cell response; exploring the mechanisms of disease progression, biomarker development, and applying stem cell biology to clinical use. Clinically Dr. Sadiq is an internationally acknowledged expert in multiple sclerosis, receiving  numerous awards for his research and clinical activities. He has been an invited guest speaker nationally and internationally at numerous meetings and has more than 100 publications.
In June of 2014, Dr. Saud A. Sadiq was elected a Fellow Member of the American Academy of Neurology (AAN).  This outstanding achievement recognizes the contributions Dr. Sadiq has made to the Academy and to the neurology community.  To receive this prestigious honor, accomplishments both academically and clinically were taken into consideration.  These include the publication of papers and representations at national meetings as well as consistent and significant service in the area of clinical neurology which go above and beyond and promote the neurosciences.